We had a wonderful time exploring the Jail. We immediately got separated, and broke off into different groups. We ventured down into the boiler room where the floor was covered in slippery sand, and climbed onto the roof where we peered down the elevator shaft. Near the end, we had to run because we were running out of time and kept finding great new places we hadn't been. It was an awesome adventure in and of itself, and then we had pie.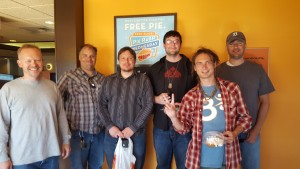 We were on the lookout for structural damage, and water damage. We found a bit of water damage in the cell block area, one place with a wet floor in a basement, and one interior non-bearing wall in the kitchen looked damaged, but for the most part the structure of the building looked completely undamaged. Most of the problems were cosmetic.
I believe the consensus is that there is enough space there to allow us to do essentially everything we could imagine, and it is worth pursuing. There were many areas that would need only minor repair to be usable. These areas could be used almost immediately, and other areas of the building could be renovated over time as needed.
How do you eat an Elephant? One bite at a time. Looking at individual rooms in the building it's clear that, for most, the work required to fix them would be well worth the effort to reclaim that space for doing something awesome for years to come.
Now comes the biggest problem: Getting the building. It's vital that we impress the city to the point that they have no choice but to allow us to move in.
The proposal deadline is August 10th at 5 pm.
I have started a new public Google Doc to act as our proposal. The old proposal that can be used for inspiration is here. The bid packet containing all the information available from the city can be found on bidsync or here.